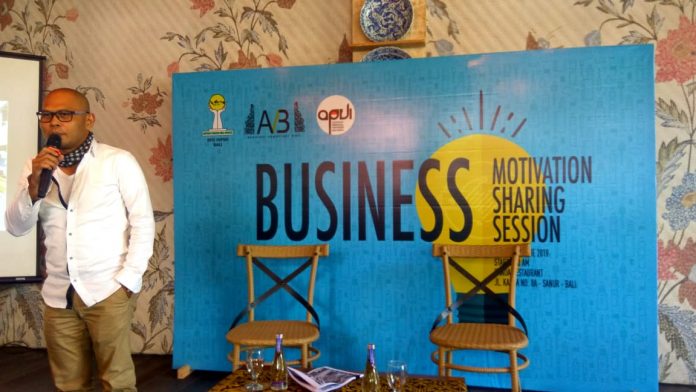 DPD Aprindo Bali is always committed to supporting efforts and activities for development and improvement of the economy, especially the MSME sector in Bali. In line with this commitment, synergy and collaboration are the keywords to strengthen the stability of this commitment. This synergy and collaboration was recorded in the Business Motivation Sharing Session held by BPD HIPMI Bali with the Bali Vaporizer Association (AVB) where one of the speakers was from Aprindo Bali represented by Mr. Budiman Antonius Sinaga as the Coordinator of the Department of Supermarkets & Shopping Centers, DPD Aprindo, Bali Province. . Also attending the event were the Secretary of the DPD Aprindo Bali, I Gede Landep who represented the Chairperson of the DPD Aprindo Bali, BPD HIPMI Bali, Sonya Castalie Fernandez and the Vaporizer Association from all over Bali.
Budiman Sinaga in exposure to the theme material "Dead Stock Product Management and Brand & Product Quality Improvement"convey that it is important to as quickly as possible so that dead stock can be issued to maintain the business cash flow. He added that it was also important that the role of the association as a place for consultation and coordination between members both about products, prices including coordination of stock issues owned by each member so that they could help each other in issuing dead stock. "So this is the importance of synergy and collaboration between members in the association, so who members who have many dead stock products can be coordinated so that if there are members who do not have stock in order to be able to take it from their partners so that cashflow stability is always maintained. casflow of business is maintained, the sense of brotherhood between members has become even tighter " said the wise man who is also GM Trans Mart Bali.
The Chairman of the Bali Vaporizer Association, Gede Agus Mahardika in his remarks expressed his gratitude for the sharing given by Aprindo Bali to the AVB members who were present. "Our gratitude goes to our colleague from Aprindo Bali for sharing knowledge about stock management. So our brothers and sisters in the association have a lot of new knowledge about managing stock management " concluded Gede Maha.